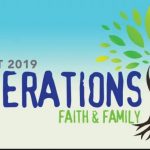 The FEST is looking for 350 people to be a part of The FEST choir which will help lead the music and songs for thousands of people at the Mass with Bishop Perez on Sunday, August 4, 2019 at the Center for Pastoral Leadership in Wickliffe. Many voices coming together will make a joyful sound for the Lord and for all who join us. Be a part of this amazing group!
To learn more or to sign up go to www.theFEST.us/volunteer. Interested in auditioning to be a cantor? Contact Matt Fodor (MFodor@StAmbrose.us) for more information.   Every generation is welcome to join the choir at The FEST.
For more information about this FREE day of faith, family and fun, go to www.the FEST.us.