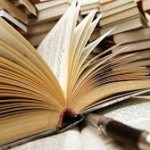 All welcome to join the Book Club, upstairs, Room 2 of the school  discussing Pierre Pradervand's The Gentle Art of Blessing,
We apologize for the mistaken information about this month's book discussion in previous bulletins. Check out the website for future books and
dates.
Plan ahead for the 2016 Sunday Book Club!  Meetings are held in Room 2 of the school beginning at 10:15AM.
May 15 — Adam: God's Beloved                 Henri Nouwen
Jun 19 — Doing the Truth in Love             Michael Himes              (This date might change since it's Father's Day)