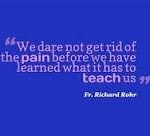 On Saturday, February 16, 2019 St. Malachi, St. Patrick's and St. Wendelin's men are invited to attend a webcast with Sr. Joan Chittister and Fr. Richard Rohr, "The Human Spirit and The Times We Live In."
Pizza and drinks will be provided. Gather: 10:30am; Webcast at 11:00 with discussion after. Where: John Knox Presbyterian Church 25200 Lorain Road, North Olmsted.
Contact: Jeff Barbalics 216-631-3343 jbarbalics@cgginc.com Mike Graham 216-228-8815 mmrsgraham@msn.com
Great way to continue your spiritual journey.