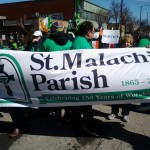 Our St. Malachi 150th Homecoming Festival is this coming Saturday, July 18,  2015 from 2-8:00 PM on the parish grounds. Come join the fun to celebrate St Malachi's past and present! Enjoy live music and entertainment, games, a corn hole tournament, food trucks, church tours, historical displays, friends and family.
NEEDED: A FEW MORE VOLUNTEERS FOR THE
150TH HOMECOMING FESTIVAL
Thank you for the great response to our request for
volunteers! However we need a few more, specifically,
at least 3 volunteers to do a 2 hour shift on the Trash/Clean Up Crew and several for the Take Down crew at 8:00 pm.
Please see the sign up board in the vestibule
and at coffee hours after Masses.