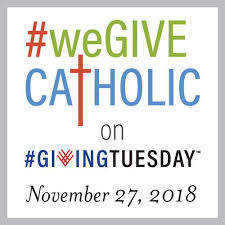 St. Malachi Church is again participating in #WeGiveCatholic, diocesan-wide online giving day on "Giving Tuesday," November 27, 2018.  We need your help to reach our $15,000 goal!
Basic Information about #WeGiveCatholic:
Tuesday, November 27:  Midnight to Midnight
Online giving: https://wegivecatholic.org; type in St Malachi Church or link on St. Malachi website.
Donations to St. Malachi will benefit food ministries (Backdoor Ministry, Monday Night Meal, Christmas Fruit Baskets)
Donations can also be made by cash, checks or credit card. Place cash and checks in the collection basket or mail before 11/27. Call the rectory if using credit cards.
How You Can Help:
Mark it on your calendar & plan to give
Share info with family & friends about St. Malachi's ministries, invite them to give to St. Malachi for #WeGiveCatholic
Share info on social media (Facebook, emails, etc.) by reposting updates, emails, etc.
Contact: Sharon Lowe-Chapman, 440-666-8699 or  lowechap@hotmail.com.