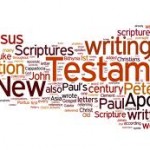 Savor the Word  October   Tuesdays  7:00PM
Feed your soul with the Word on Tuesdays, October 6, 13,20, and 28, 2015 at 7:00PM in the school. Savor the richness given to us by God. Materials provided. All welcome.
---
Diocese Cluster Book Study 10/7/2015  1:30PM
All are invited to attend the Cluster Book Study on
Tuesday,
October 6, 2015
and 
Tuesday, October 20, 2015
at
1:30PM
at
St. Patrick Church
on Bridge Ave.  We will discuss Pope Francis'
The
Joy of the Gospel
.  Copies of the book are available at St. Patrick Church.
---
Men's Ministry Gathering 10/17/2015 10:30 AM
On Saturday, October 17, 2015 St. Malachi, St. Wendelin and  St. Patrick men are invited to attend a webcast and discussion of Fr. Richard Rohr:Continues Following the Mystics Through the Narrow Gates.
Pizza and drinks provided. Gather: 10:30AM; Webcast at 11:00AM
Contact: Jeff Barbalics 216-631-3343 jbarbalics@cgginc.com
Great way to meet good men and deepen your spiritual journey.
---
Music Ministry Celebration 10/17/2015 7:00PM

 In gratitude  and thanksgiving for our 150th anniversary year, the St. Malachi Music Ministry and special guests will present an Evening of Musical Celebration on Saturday evening, October 17, 2015 starting at 7:00PM in church.
Enjoy music all the way from chant to Mozart to Motown with more fun in the hall to follow.
---
20's and 30's Brunch 10/18/2015 12:30PM
The third Sunday of each month is brunch at the
Big Egg
after 11:30 AM Mass. Singles, couples, and young families are welcome to meet, enjoy a meal, and develop community. Just ask to be seated with
St. Malachi 20s and 30s. No RSVP needed.
---
Bridges to Contemplation 10/21/20157:00pm
Join us on Wednesday, October 12, 2015 for Bridges to Contemplation at 7:00PM in the church. We use Thomas Merton's Lenten writings as a starting point for silence, contemplation, and discussion.
---
Church Cleaning and Preparation 10/24/2015 9:00AM                        In preparation for our  Jubilee Mass: Feast of St. Malachy on Sunday, November 8, 2015 at 2:00PM, we will gather in the church at 9:00AM to clean and prepare the church for our upcoming celebration.
Many hands make light work!
---
Spiritual Development Commission Meeting 10/26/2015
Please join the Spiritual Development Commission meeting on Monday, October 26, 2015 at 7:00PM at the rectory. We will be discussing our plans from our last meeting. We would like your input.
---
Adoration of the Eucharist 10/28/2015 7:00PM
Deepen your prayer this week on Wednesday, October 28, 2015 with Adoration of the Eucharist. We reverence in silence and a reading. We start at 7:00PM the church.
---