On Tuesday, January 20, 2015, Maria Smith and Charles Hurst are our Everyday Prophets. Everyday Prophets is a lunchtime program to celebrate the work and dedication of those in our community who serve others.  We start at 12:30 PM (after noon mass) in the Hall.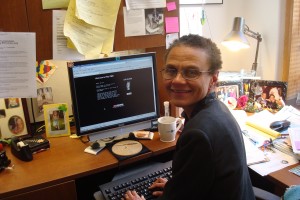 Maria Smith is an attorney and her recent work focuses on housing and reentry issues.  She helped plan the annual Peace Show – a witness against the military present in the Air Show.
Charles Hurst is the pastor of North Presbyterian Church, 4515 Superior Avenue.  Many of the people who attend North either are currently experiencing homelessness or have confronted homelessness, incarceration or mental illness in the recent past.  Others are in recovery from alcohol and drug abuse.  Charlie's ministry includes a profound understanding of how militarism, racism and materialism manifest in the lives of the people at North.
Maria and Charlie have been doing war tax resistance since 1985.
Speakers also share stories of their own life's journey.  Bring a lunch (beverage and dessert are provided) and enjoy the stories, fellowship, and inspiration shared.