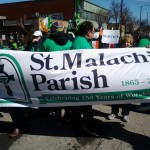 The St. Malachi's 150th Anniversary Homecoming Festival will be Saturday, July 18, 2015 from 2:00 PM-8:00PM on the St. Malachi Campus at West 25th St. and Detroit Ave.  There will be entertainment, food, fun and activities for all ages.  Admission is free.
A full schedule of music and performances will occur between 2PM and 8:00PM (see sidebar for details).   Highlights include DJ Paul Farace, the Leneghan Academy of Irish Dance, the West Side Irish American Club Pipe Band, and Brigid's Cross.  Click here for the 150th Anniversary Page to see the full schedule.
Other activities include history displays, videotaped stories of our past, church tours, food trucks, and games, including a corn hole tournament.

All are welcome including current and past parishioners, friends and anyone interested in a good time!
Volunteers are still Needed! To make the Homecoming Festival a success many willing hands and bodies are needed. Sign up for a 2 hr shift and enjoy the Festival before or after. A sign up roster is available after all the Masses, or call the rectory at 216-861-5344. !