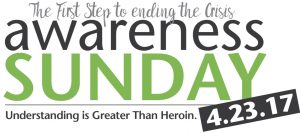 The heroin epidemic has reached crisis levels in our country and in our State.
Ohio is at the epicenter of this crisis. Estimate: 900 people will die in Ohio this year due to heroin overdose.
In 2016, Ohio had the most deaths related to heroin in the country: 1 in 9 heroin deaths across the US happened in Ohio. (www.dispatch.com).
Most people know someone who is addicted, or has a family member or co-worker who has suffered as the result of this crisis.
Most heroin addicts begin their path of addiction because of pain medication.
We need to break the silence. Many hold their struggle/pain to themselves from fear or shame.
Understanding the crisis & pain of addiction is the first step to breaking the grip of this epidemic.
Many recovery resources and opportunities are available to help in our region and state.
We can all do a few things:
° Make certain that all Opiates prescribed to them by physicians are kept in a secure location away from children and the public.
° Safely dispose of opiates at your local County Sheriff's office.
° Pray for those who struggle.
° Pray for those who are working to protect us.
° Learn more: www.GreaterthanHeroin.com
° Reach out to your minister/pastor/religious leader for guidance.
Saturday, April 29 is Drug Take Back Day. Clean out your old/unused pain medications & take them to local police or sheriff's department.
Together we are stronger than this epidemic. We can make a difference and bring help and hope to all in need.
Respond to the Crisis:
Learn More & Understand!
St. Malachi Samaritan Ministry
Addiction Awareness Workshop
Saturday, June 24, 9AM—4 PM
Malachi Center
Medical Aspects: Addiction as a brain disease: Overview of Alcoholism/Substance Abuse; Family Issues: Treatment and Using the 12 Steps in Recovery
 Free and Open to Everyone! To register: (216) 861-5343