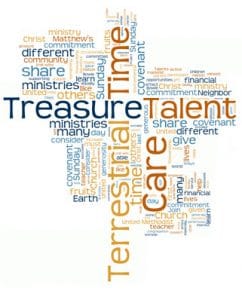 Through the years, our dedicated parishioners have freely contributed Time, Talent and Treasure to meet the needs of our parishioners and the people of this area. In the church's understanding of what parish means, each parish is called to serve all the people in our territory (neighborhood), whether or not they are registered parishioners. This takes on the form of stewarding God's creation, the gifts God has freely entrusted to us. According to our gifts, each person is called to be good stewards of:
TIME:  Share available time to give to others;
TALENT:  Share our God-given gifts with others;
TREASURE:   Share monetary/material means with others.
Now is the time to begin anew or continue to be stewards of your God-given gifts!  Stewardship forms are available on line  (Stewardship Form) and at each door of the church.  Each adult 18 years or older is asked to complete a form.    Return the ministry form to the rectory or in the collection basket by November 10.  Thank you to all as we continue to live in concert with our mission as a Eucharistic People, United in Prayer, Welcoming to All, and Serving the Poor.
May God Bless You,
Fr. Anthony Schuerger