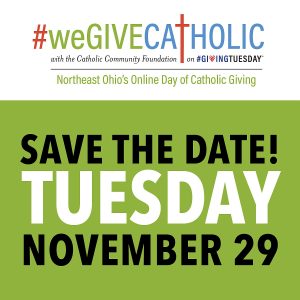 Save the Date: Tuesday, November 29!  Last year, the Back Door Ministry served over 45,000 meals.  With Back Door Ministries increased guests and costs, we invite you to "partner" with us this year to reach our goal of $60,000 through #weGiveCatholic, Northeast Ohio's Online Day of Catholic Giving on November 29, 2022.
All funds raised via #weGiveCatholic this year will benefit our Back Door Ministries: Monday-Friday takeout lunches, Monday night takeout dinners and Saturday morning breakfasts.
Stay tuned for stories and videos about the impact of this vital ministry.
Bookmark our page (https://www.wegivecatholic.org/organization/St-Malachi-Church) to learn more about St. Malachi and make your plan to give and to spread the word about #weGiveCatholic on Giving Tuesday, November 29th!