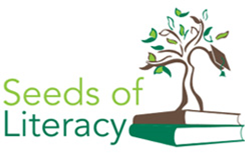 THE PROBLEM: Literacy rates in our area are STAGGERING. 66% of adult Clevelanders are functionally illiterate. At this level, they may struggle with:
understanding prescription instructions,
budgeting for a full household,
navigating public transportation,
helping their children with homework, and
pursuing the social services they may need to improve their life circumstances.
In some neighborhoods, the rate is even higher…more than 90% of adults are struggling with literacy!
THE SOLUTION: For nearly 25 years, Seeds of Literacy has provided FREE GED® (high school equivalency) test preparation and basic education tutoring to adults in Cleveland. A high school equivalency is directly correlated to:
higher incomes,
improved health,
lower incarceration rates, and
increased generational educational success.
Our students are committed to their education, and they study while juggling jobs, kids, and incomes that fall below the federal poverty line. But they all say one thing: The individual attention they receive from tutors at Seeds puts their dreams within reach.
Our volunteer tutors are truly the heart of Seeds of Literacy. As a tutor, you'll provide one-to-one attention, instruction, and encouragement to adult students as they work toward the GED® credential and a life of possibilities.
Our success depends on one-to-one educational instruction, which means we're always looking for more dedicated people who'd like to get involved and work with our growing number of students in our Virtual Classroom and our physical classrooms.
Unlike other tutoring opportunities, tutoring with Seeds allows volunteers to work with adults instead of children. Our adult learners have seen firsthand how tough life can be without an education; they are committed. And since no two adults have the same story, volunteers have fun engaging with lots of different personalities. If you interested in tutoring or have any questions, please contact Christine Lee, Volunteer Coordinator, at 216.661.7950 x115 or at volunteering@seedsof literacy.org.