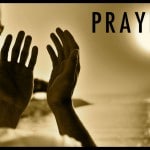 AUGUST 11 Learn the Ancient Prayer Method, Lectio Divina
Join us six Wednesdays online 6:30-7:30PM for Lectio: Prayer and learn to pray more deeply with Scripture. We will use the study on Formed.org, watch the video at home, meet to discuss the content, and pray together. Begins Wednesday, August 11, 2021. Contact Stephanie Pritts for details at stephanie.p@stmalachi.org.
AUGUST 11 Centering Prayer
Join fellow parishioners for Centering Prayer on Wednesday, August 11, 2021 at 11 AM via Zoom . To Register: Contact Mary Warren via email or telephone mwarren25@cox.net or 216-221-2975. We will send you the Zoom link a few days before the prayer.
AUGUST 12  A Moment for Intercessory Prayer
Let us pray for all of the members of our St. Malachi parish, their intentions, and all of the people on our prayer list at 7PM (Eastern time) on Thursday, August 12 2021.
AUGUST 14  Women's Reflection and  Prayer
All women are invited to a time of being with each other and supporting each other in reflection and prayer. We are gathering  Saturday, August 14, 2021 at 10AM at Centering Space, 14812 Lake Ave., Lakewood. Please join us and bring a friend!