Savor the Gospels
Tuesday, June 16, 2015  7:00PM
Feed your soul with the Word any Tuesday evening at 7:00 PM in the School Library. Savor the richness given to us by God. Materials provided. All welcome.
---
Bridges to Contemplation
Wednesday, June 17, 2015   7:00PM  Church

Deepen your  prayer  with Bridges to Contemplation.  We will use Thomas Merton's writings as a starting point for silence, contemplation and discussion.
---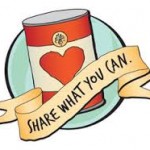 Monthly Can-Do Food Collections
June 20-21, 2015
Next weekend is our monthly Can-Do collection of non-perishable foods to support the
West Side Ecumenical Ministry
(WSEM) Food Pantries. Hunger does not go on vacation during the summer; however, food donations to food pantries usually decline during the summer months.
Your donation of canned goods or other non-perishable food items can make a difference!
---
Adoration of the Eucharist
Wednesday, June 24, 2015  7:00PM  Church
---
If you can provide lettuce and/or fruit once a month for the Monday Night Meal, please contact Greg Gortz at 440-227-7360 or
gjgortzer7@aol.com
.
Show your pride in St. Malachi's! Purchase an anniversary T-shirt! They will be available after all weekend Masses from through July 11-12. Prices are a bargain at $10 for children's and adults (S, M, L, XL) and $12 for 2X & 3X.
Wear them at our anniversary events.
June 2015
The International Catholic Stewardship Council promotes and supports Catholic teaching on stewardship by providing education and resources for dioceses, parishes, and institutions of the Roman Catholic Church.