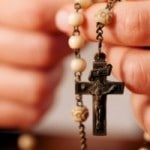 Please join us on Sunday, December 16, 2018 at 3:00PM for an hour of learning and healing along your grief journey. Our Grief Support leaders are certified as Ministers of Consolation by the National Catholic Ministry to the Bereaved, Inc. Our Catholic-based support can be supplemental to your existing support groups.
We will meet at the following locations:  St. Joseph Cemetery, Avon (temporary trailer office); Holy Cross Cemetery, Akron (office); and Holy Cross Cemetery, Brook Park (office). The topic for December will be: "Emmanuel – Finding God in the Midst of Grief". God with you, God for you, and God in you." No registration is required.  Just come and join us.
For more information, visit: websitehttps://www.clecem.org/Information/Bere avement.aspx or contact Rhonda at 216.930.4866 rabrams@clecem.org.