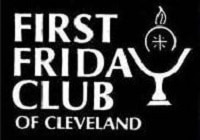 Fr. Donald Dunson, pastor of St. Vincent de Paul (Elyria) and moral theology professor at St. Mary Seminary will address "Citizen of the World: Suffering and Solidarity in the 21st Century" at the First Friday Club of Cleveland on Thursday, February 4, 2016 at 11:30AM at the Cleveland City Club located at 850 Euclid Avenue, 2nd Floor.
Discount parking is available at Euclid-Prospect Gateway Garage for $3, with a First Friday Club stamp. Lunch is $20. Call Cheryl Zelenka at 44o-390-0172 or email firstfridayofcleveland@smail.com for reservations.
The First Friday Club of Cleveland is a forum for Catholic thought, founded in 1958. Meetings are held on the Thursday before the first Friday of the month.