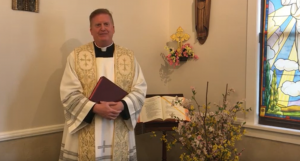 Dear Brothers and Sisters,
As we prepare to celebrate Thanksgiving Day – even as we carefully observe safety protocols due to Covid – I came across this beautiful prayer from Teenager Kelli Mahoney:
Thank you, Lord, for the blessings you have bestowed on my life. You have provided me with more than I could ever have imagined. You have surrounded me with people who always look out for me. You have given me family and friends who bless me every day with kind words and actions. They lift me up in ways that keep my eyes focused on you and make my spirit soar.
Also, thank you, Lord, for keeping me safe. You protect me from those things that seem to haunt others. You help me make better choices, and you have provided me with advisors that help me with the difficult decisions. You speak to me in so many ways so that I always know you are here.
And Lord, I am so grateful for keeping those around me safe and loved. I hope that you provide me with the ability and sense to show them every day how much they matter. I hope that you give me the ability to give to them the same kindness they have provided to me. I am just so grateful for all of your blessings in my life, Lord. I pray that you remind me of just how lucky I am, and that you never allow me to forget to show my gratitude in prayer and returned kind acts. Thank you, Lord. In your name, Amen.
Let this be our prayer and let us take a moment to raise our glass of one's favorite beverage and offer thoughtful cheer to all who warm our hearts.                                                                                  Gratefully yours in Christ,
Fr. Gurnick