Editor's Note:  This post, written in 2010, is just as appropriate with the events of 2015 as it was then.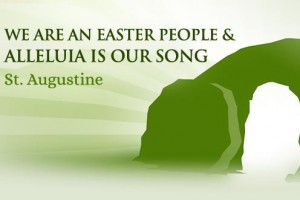 Attributed to St. Augustine is the famous saying, "We are Easter people and alleluia is our song!"
If one took this description at face value, a person might think that Jesus' resurrection means that everything in life should be positive for a believer, that the struggle with evil is finished and there should be nothing more wrong in life.
If it were only true!
During the first two weeks of Easter this year, we have experienced the harsh reality of evil, sin suffering and pain:
— the murder of Angel Bradley-Crockett, mother of two children who attend St. Malachi Center's After-School program. Her body was dumped on the freeway;
— the crash of the Polish airplane in Russia as they were traveling to the 70th Anniversary memorial services of the Katyn massacre [in which 21,000 Polish military and civil leaders were killed by the Soviet secret police], killing 97 people, including the President of Poland, his wife, many senior military and government leaders, and relatives of the World War II massacre;
— another earthquake, this time in China, with hundreds of dead;
— devastating storms in India, with hundreds more dead;
— the daily struggle of so many people afflicted with mental illness, alcoholism or drug addiction who come to our door each day;
— the continuing anguish and hurt of so many people as their parishes close. Last Sunday, our neighbor, Blessed Sacrament (Fulton Road) closed.
— individuals and families suffering with serious or chronic illnesses.
— the sadness and loss of death – specifically, of Robert Lad, man of great faith, beloved husband, father, grandfather, great-grandfather, scientist, musician, craftsman, "Renaissance man"
Being "Easter people" does not deny the continuing reality of evil, sin, cruelty, injustice, suffering, or tragedy. Living Easter means to live in the faith that the domination of evil and sin has been overcome by Christ's own suffering, death and resurrection. As one author expressed it, "We on earth exist in a state of contradiction between the cross and the resurrection. Surrounded by decay, we nonetheless hope for perfection, for a restoration of the cosmos. We have no proof that it can ever be attained, only a sign in history, the 'foreglow' of the raising of Christ from the dead. Yet if we can sustain faith in that glorious future, it can transform the present. (Philip Yancey, "What Can We Expect to Find," in Reaching for the Invisible God)
To express it another way,
"As an Easter people our challenge is to share that hope and experience of resurrection:
Each time we love again after having our love rejected,
we share in the power of the resurrection.
Each time we trust again after having our trust betrayed,
we share in the resurrection.
Each time we fail and try again,
we share in the resurrection.
Each time we hope again after having our hopes smashed into pieces,
we share in the resurrection.
Each time we pick up the pieces, wipe our tears, face the sun and start again,
we share in the resurrection.
The message of Easter is that Christ has conquered all,
and that we too can conquer all, if we unite ourselves with Him."
(an extract from Tree of Life – World Federation of Methodists and Uniting Church Women)