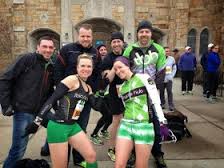 The annual St. Malachi run, this year on Saturday, March 12, 2016, brings thousands of people to St. Malachi every year.  
If you are interested in running, register at www.hermescleveland.com/roadracing/Malachi.
Parishioners interested in volunteering either by working at a water stop on the day of the race and/or stuffing race packets in the weeks before the race, please contact Diane Brinich at the number below.
Volunteers had a wonderful time last year and hopefully we will once again be a presence.
The race supports our ministries.  Please contact Diane Brinich at (216) 521-1300 or dbrinich@gmail.com