Looking for a unique and memorable gift for friends and family this season?  How about purchasing a piece of blessed St. Malachi history?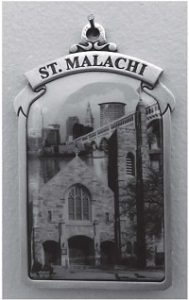 Add this St. Malachi ornament to your Christmas tree! It is a beautiful pewter and fused image of our church.

This ornament is 2 x 3.25 and is only $20.00!
You can order several copies of the  St. Malachi booklet that describes our history, our story, our accomplishments. The booklet is 8.5 x 11 and is only $5.00!

There are 8 x 10 photo prints still available for $10.00 each.

A.            Limited prints of the church image in the ornament

B.            Gathering of parishioners outside after the Anniversary Mass
Don't delay to get your order in. All proceeds go to Parish Anniversary Fund for capital expenditures. Contact: